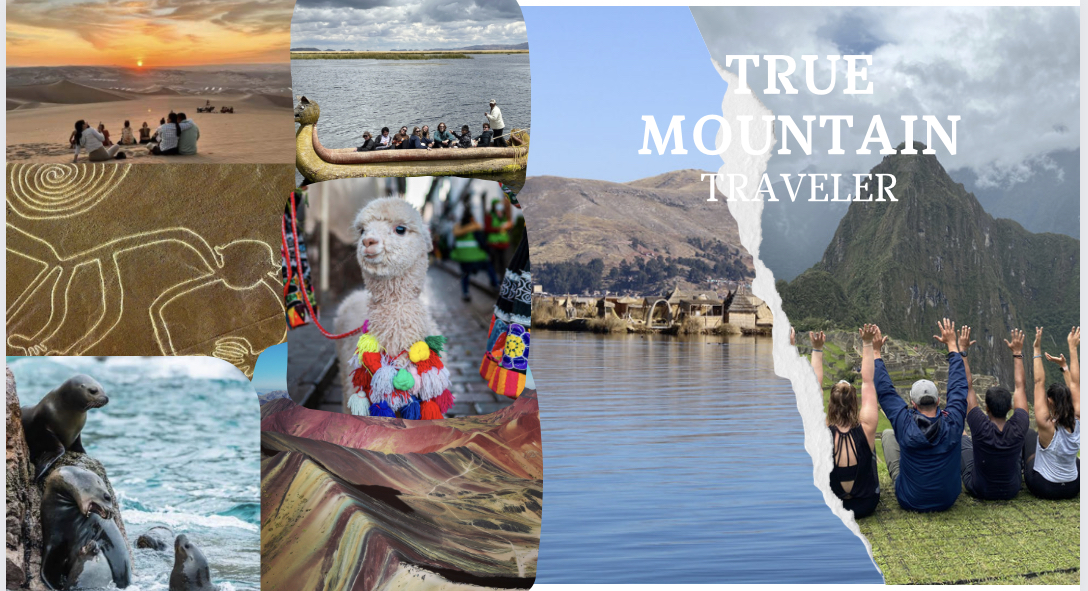 Peru Expedition - True Mountain Traveler
There is one simple reason why True Mountain Traveler has the best Peru trip to Machu Picchu:
You travel off the beaten track, passing the stunning scenery with lakes, mountains, rivers, desert and llama farms. Our Peru expeditions all inclusive takes you to the most beautiful places that Peru has to offer such as Nazca lines, Paracas, Huacachina, Lake Titicaca, Inca Trail, Machu Picchu, Rainbow Mountain.
You are guided by a direct local tour operator in small groups, you'll eat the delicious Peruvian dishes with multiple options on your trip.
DAY 1: Arrive to Hilton Garden Lima Miraflores hotel
9 am Important meeting with you tour manager at the hotel
We begin at 10:30 am with our culinary city tour, where you will have an exciting and delicious experience touring the city while you get to know and taste some of the most delicate and typical morsels of Peru, we will talk about Peruvian cuisine and its evolution over the last 1500 years, and during lunch, you will be surprised to taste the tastiest traditional dishes from the Peruvian coast, highlands, and jungle, with this culinary experience and even better tasting some of the most typical beverages and drinks like the delicious Pisco Sour, the Chicha Morada, and the most delicious desserts.You will eat at renowned restaurants acclaimed for their star dishes and participate in a tasting tour of beverages, drinks, regional meals, and desserts.Moreover, we incorporate the must-see sights of Lima, the capital cuisine of South America. Such as its Main square,  Presidential House, visit the first Cathedral of South America and Peru, exploring the subway constructions, cemeteries, and catacombs of the church of San Francisco which are integrated with the catacombs of the Cathedral of Lima, strolling around, and enjoy the view ofLima's fascinating Chinatown area,  enter to the local market for a real insight experience, chat with local vendors at their own stalls and discover new types of potatoes, corns, chilies, spices, and vegetables while learning of aromatics healing plants, customs and taste delicious regional fruits, snacks, dry fruit and more enjoying the food boulevard of Lima.But in general, you will taste a lot of super delicious food!On our tour you will experience the city's authenticity that most visitors don't know exists, and try new foods beyond the usual, we are enthusiastic foodies and, on this tour, we will share our favorite secrets in Lima! 
Not Included: transfer from airport to hotel, dinner
Included: Hotel Hilton Garden in Miraflores, briefing, transport, lunch, entrances tickets
DAY 2: 06:00 am Departure from Miraflores – Lima to Ica (Ballestas Islands)
Experience a journey through the desert coast surrounded by mountains, valleys and the Pacific Ocean on your way to southern Peru, where you will enjoy the breathtaking scenery in this land of contrasts arriving at Paracas and the Chaco pier at 8 am during our way to Paracas we´ll stop to take some snacks. 10 am We take the boat tour to the Ballestas Islands. These islands are part of a National Reserve where you can see hundreds of sea lions, seabirds, Humboldt penguins, guano birds and turtles that are rarely found at this latitude, without a doubt, they are spectacular in their own right and well worth a visit. On the way, you will see the famous Candelabro traced on the slope of the mainland. It is at least 50 meters long and is believed to be related to the Nazca Lines.
13:30 pm Lunch at Local restaurant As de Oros, the Peruvian cuisine is considered one of the best in the world. 3 pm Tour at the ancient winery at the south of Peru & Wine and Brandies tasting Our next stop is at the oldest and most important winery to taste delicious and aromatic wines and Peruvian spirits brandies called Pisco (grape distillate) also of our national cocktail the pisco sour, and finally we ahead to the Oasis La Huacachina.
4 pm Huacachina Oasis, boogies and sand boarding In the city of Ica there is an oasis in the middle of the hot desert called the Huacachina, this wonderful place is home to one of the most incredible love legends that give rise to its lagoon, we will walk along its shores and witness its beauty and charm while will tell you its history.
Then we will ride the powerful boogies into the desert to reach the highest dunes and enjoy the sunset, sand boarding (optional), 6:30 pm return at Hotel in Ica.
Not Included: Meals
Included: Hotel, entrances tickets, Tour Guide, Transport
transport, lunch, entrances tickets
DAY 3: Depart Hotel for Nazca lines expedition
Breakfast at Hotel, next we go to the airport driving 15 minutes away. 10:20 am Over flight to Nazca lines (1 ½hour) After your breakfast, you will be transferred to the airport to contemplate the mysterious Nazca Lines during a one hour and thirty-minute flight. These incredible designs, some of which are 300 meters long, can be seen from 1,500 feet in state-of-the-art aircraft departing from the Pisco airport. The lines comprise zoomorphic designs, both simple and complex, representing more than 30 animals such as the monkey, the spider and the hummingbird, among others. Such beauty and mystery have fascinated travelers for generations.
12:00 hrs Lunch in the oldest Restaurant and Winery, finally return to Miraflores -Lima. 
Not Included: Meals
Included: Hotel, flight tickets, Tour Guide, Transport 
transport, lunch, entrances tickets
DAY 4: 07:00 am Departure from Hotel in Miraflores to airport
10 am flight from Lima to Juliaca. Arrive to hotel in Puno and leave the suitcases following walkabout lunch. After lunch an orientation tour and visit Puno area and Plaza de Armas. If your interest is exploring the amazon rainforest you can flight to Puerto Maldonado and explore the Tambopata jungle and continue with the itinerary in Cusco."Click Here"
Not Included: Meals
Included: Hotel, Flight from Lima – 1 luggage 23 kg/50 lbs, Carry on weight limit 10 kg/22 lbs, transfers.
DAY 5: 07:00 am Depart for our Lake Titicaca expedition
At 7:30 am transfer by local transportation (tricycles) to the port  and we will take a boat to begin exploring the highest navigable lake Titicaca. On the way we visit the traditional floating islands, inhabited by the legendary Uros, fishermen who have used the totora reeds to survive in the lake.
Following we will continue sailing until we arrive at Taquile Island and a gentle hike of about 50 minutes where we will explore the Quechuas town and their textile market on the island. After we observe a native community that conserves ancestral forms, we will have lunch at the local restaurant ( included). We will continue hiking the west side of the island on the 500 steps down affording spectacular views.
At 3 pm we take the boat ride back to Puno about an hour and half and transfer back to your hotel.
Not Included: Dinner
Included: Hotel, entrances tickets, Lunch Tour Guide, Transport
DAY 6: DEPARTURE 7:30 am from Puno to Cusco
1st STOP – THE MUSEUM OF PUKARA.
2nd STOP – THE PASS OF THE RAYA.
3rd STOP – THE ARCHAEOLOGICAL COMPLEX OF RAQCHI.
4th STOP – THE CHAPEL OF ANDAHUAYLILLAS.
5th STOP – ARRIVAL TO PUNO CUSCO 05:00 PM.
Not Included: Meals
Included: Hotel, Entrances tickets, Transport, Tour guide
DAY 7: 08:00 am Depart Hotel for Cusco city Tour
You'll head to Plaza de Armas, where you will see the famous cathedral of Cusco. Following, you'll continue walking through an ancient Inca-built street from the Plaza de Armas to the Q'oricancha sunTemple. At the Q'oricancha you will be able to compare and contrast the building methods of the Inka culture and Catholicism. It's was the key spiritual center of the Inkas, which leads to all 4 quarters of the Inka Empire.
From Q'oricancha, your group will go to the famous San Pedro market, where you'll take our private transport for 25 minutes to visit the famous archaeological sites that are located in the upper part of the Cusco city, such as Sacsayhuaman, Qenqo, Tambomachay, Mirador Cristo Blanco and llama farm. following back to hotel and free afternoon.
Not Included: Meals
Included: Hotel, Entrances tickets, Transport, Tour guide
DAY 8:Departure from Hotel in Cusco to Inca Trail / Sacred Valley fo the Incas.
Hikers
04:00 am Departure from Hotel in Cusco to Inca Trail.
We will drive to the Ollantaytambo train station for 6:00 am train and follows the Urubamba sacred valley River, until we reach Km 104, where we'll begin our hike. Along the way, you will see spectacular views of the farmlands, snow- capped mountains and the mighty Urubamba River, one of the sources of the Amazon River. At Km 104, we will begin our trek. Once you have everything you need, we'll take a group photo, before visiting our first Inca site. After the orientation and tour of the Incan site, we will begin the hike upwards, as we head for the Classic Inca Trail. If the weather is clear, we'll have tremendous views of Machu Picchu mountain, the Urubamba River and other surrounding Incan Sites. After hiking for 3- hours, we will reach the gorgeous Inka ruins on the Inca Trail, Wiñay Huayna (Forever Young) at 8,500 ft (2600m). Most people do not get the opportunity to see the elaborate water fountain, temples and agricultural terraces, which provide a perfect opportunity to learn about the history of the Incas. The site is bordered by steep drops, allowing you to see the stunning mountains surrounding the area. From Wiñay Huayna, we'll walk to the Sun Gate, from where we'll see the picturesque landscape of Machu Picchu. After taking in the once-in- a-lifetime views, we will begin our descent to Machu Picchu itself.
A big advantage of this hike is that, by the time we reach Machu Picchu, most of the day travelers will have returned home, so you will have the area nearly to yourself. After taking photos, we will take a bus down to our hotel in Aguas Calientes and check in.
Not Included: Dinner.
Included: Hotel, Permits for Inca trail, Transport, Tour guide, box lunch.
Non Hikers
7:00 am Departure from Sacred Valley Tour.
We will drive to the Lookout Point of sacred valley, for beautiful views and photos. Following, we are going to continue the journey up to the Pisac Inca site, situated on top of Pisac Mountain within the Sacred valley. Your tour guide will take you to the most impressive spots. Then, we'll drive along the Vilcanota sacred valley river for about forty five minutes, till we arrive to Ollantaytambo, where the second heaviest Inca monoliths are to be found.
The ruins have an incredible Temple of the Sun, Moon, and also the Temple of the ten Niches. This living Inca village displays narrow walkways, lined with water channels. Also you'll have time to explore the ollantaytambo village. Followung you will need to head to the train station and catch your train 1 pm to Aguas Calientes.The train trip to Aguas Calientes is just under two hours, descending into the Cloud Forest, where you will see orchids, bromeliads and ferns, then we will head to our hotel in Aguas Calientes and check in.
Not Included: Meals.
Included: Hotel, Permits for Sacred Valley, Transport, Tour guide.
DAY 9: 05:30 am Depart Hotel in Aguas Calientes for Machu Picchu Tour
Wake up early in the morning in order to catch the sunrise at Machu Picchu. You will have a two- hour guided tour. After that, you will have time to explore Machu Picchu by your own. Those who have tickets to Huayna Picchu will have time to climb the mountain, which takes approximately an hour and a half, round-trip. When you are done exploring, you can either take a bus, or walk, down to Aguas Calientes for lunch. Following this, you will take the 3 pm train back to Ollantaytambo and then a bus to Cusco.
Not Included: Meals
Included: Hotel, Entrances Tickets, Transport, Tour guide.
DAY 10: 04:30 am Depart Hotel for Rainbow Mountain Adventure
We will depart from Cusco and drive about a 2 and a half hour throughout that we'll pass through ancient villages and see some wonderful views of the Andes, Andean farming fields, quechua children and llama farms. we'll begin the hike at 4,400 m/14,435 ft elevation. From here, it'll be about 2 hours uphill hike or you could do on horseback riding (optional) to reach the famous Rainbow Mountain. The colorful mountain of Vinicunca is located over 5 thousand meters above sea level, Due to rich minerals, the mountain is full of deep natural colors, that make a unique pattern. That is why the Quechua people know it as the sacred rainbow mountain. Finally, we'll begin our return trip back in our private transport back to Cusco around 3 pm.
Not Included: Dinner, Horses
Included: Hotel, Entrances Tickets, Lunch, Transport, Tour guide.
DAY 11: DEPARTURE – End of the Expedition
Take taxi anytime to the airport of Cusco for your flight out. Not Included: Flight out from Cusco.
End of Tour